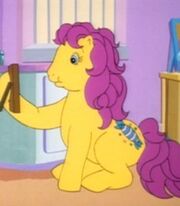 Bon Bon
(voiced by
Chiara Zanni
) is extremely fond of food and cooking. She dreams of becoming a fashion model. She loves to write in her diary, detailing every day's events. Her family is quite large, consisting of four younger siblings (Amber, Twink, Rusty and a unnamed baby brother), one older sister (Misty) and her parents. She is also mentioned as having an older sibling in the UK 1994 My Little Pony annual. Bon Bon is yellow with curly Burgundy hair, and her hip mark is a piece of candy with colors consisting of blue and white colors. She is constantly seen eating and loves to bake treats.
Bon Bon shares a G4 pony named Sweetie Drops (which is nicknamed Bon Bon often).
Her name is basically "candy" in French.